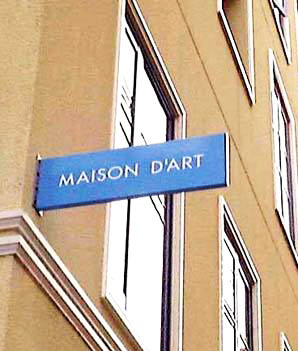 Head Ofice in Osaka ,JAPAN


GALLERY MAISON D'ART,Osaka
1・16・19 2F, Utsubo-honmachi Nishi-ku
Osaka- 550-0004 Japan
TEL:+81.6.6449.7773

Director:/ Kisako KIMOTO

(Y'S Co. ltd.)



Member of "The Osaka Chamber of Commerce
and Industry"
National Public Safety Commission,Osaka
Permit No.1367

■MAISON D'ART,
Literally means "the house of art" in French.
Deals in unique contemporary art,.
Organize exhibitions and events
by French and Japanese artists.


- Paris Branch: 3 rue du Faubourg St- Antoine 75011Paris.



- Tokyo Branch:7-15-8-6F Ginza Chuo-ku Tokyo.


■HISTORY
- 1997 : Opening of "gallery musee ange"
- Shukugawa , Hyogo
- 2002 : Transfer to Nishi-ku, OSAKA
Change of name to MAISON D'ART.
-2006:Opening of Paris Office.
-2015:Opening of Tokyo Office.

- 2008:Began to work as a commercial gallery
2010,2011,CHIC ART FAIR PARIS,
2010,2017,KOBE ART MARCHE,
-2011,2013:CHIC dessin PARIS,
2012,KYOTO ART FAIR
2014,DDESSN PARIS, fotofever Paris
2015 young art taipei, YIA Paris
2016, fotofever Paris
2017,2018,DDESSN PARIS



MAISON D'ART presents
" New nuances of Japanese Art"

Created in 1997,GAllERY MAISON D'ART has been based in Osaka since 2003.
It mainly presents Japanese and french artists whose work proposes a unique vision.linked just as much to their contemporary ideals as to the traditional Japanese aesthec.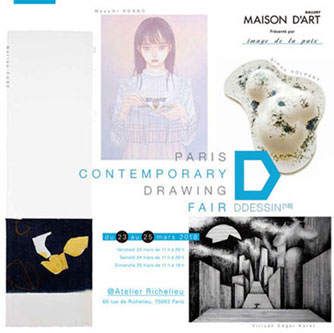 Time flies !
GALLERY MAISON D'ART has been established in Paris for ten years now and had been participating at different fairs and exhibiting spaces.
This fall, to celebrate this special anniversary, the gallery is collaborating with ESPACE JAPON
for a two weeks group exhibition, from October 24 th until November 4th.The theme will be :
"Le Japon"!
Artists / Féebrile, Noriko FUSE, Patrick JANNIN, Céline Louvet, Justine Gasquet, Yurina NIIHARA,Jean-Marc Forax, Kanaria, Simon HOLPERT, Natacha Plano,Viriyah Edgar Karet, Lucas RUIZ.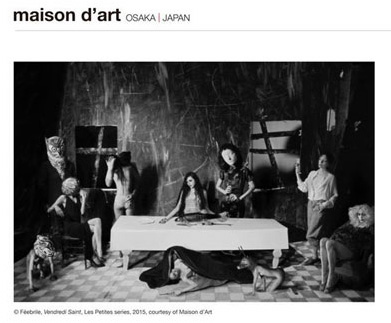 "Play room / Salle de jeu / 遊戯室"